Structured Cabling Installation
Experts in installing data and voice network cabling
Portsmouth Communications specialises in all sizes of Cat5e, Cat6, Cat7 and fibre optic structured cabling installations in the Hampshire, West Sussex and Surrey areas. Founded in 1994, we have years of data network cabling and telecoms experience to draw on, including extensive data and voice cabling consultancy expertise.
We are so confident our products and cabling installation services are of the highest quality that we offer a 25 year manufacturer backed warranty on all new structured cabling installations.
Manufacturer trained and experts in installing data and voice network cabling, we have the experience to professionally implement your installation, enhance your productivity and keep your systems operating at maximum efficiency.
Whatever size cabling project you have, from a single additional outlet to a 5,000 point installation we can help.
Every installation is performance tested using industry approved equipment to ensure the highest levels of integrity.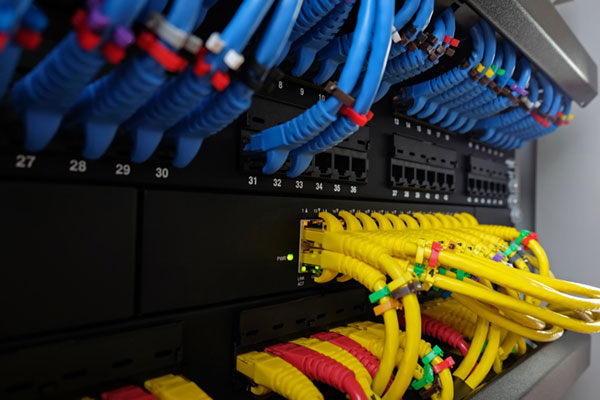 Our services include consultancy, planning, installation and testing of the following network categories
Category (Cat) 5e
Category 5 cable, commonly referred to as Cat 5, is a twisted pair cable for computer networks. The cable standard provides performance of up to 100 MHz and is suitable for most varieties of Ethernet over twisted pair. Cat 5 is also used to carry other signals such as telephony and video.
Category (Cat) 7 Cabling
A Category 7 cable (Cat 7 Cable) is a type of shielded twisted pair cable used in high-speed Ethernet based computer networks of 1 Gbps or higher. It is defined and specified in the ISO/IEC 11801:2002, Class F specification. The Cat 7 cable is backward compatible with Cat 6, Cat 5 and Cat 5/e cabling standard and equipments.
Fibre Optics (single mode/multi mode)
Single Mode cable is a single stand of glass fiber with a diameter of 8.3 to 10 microns that has one mode of transmission. Single Mode Fiber with a relatively narrow diameter, through which only one mode will propagate typically 1310nm or 1550nm. Carries higher bandwidth than multimode fiber, but requires a light source with a narrow spectral width. Synonyms mono-mode optical fiber, single-mode fiber, single-mode optical waveguide, uni-mode fiber.
Single-mode fiber gives you a higher transmission rate and up to 50 times more distance than multimode, but it also costs more. Single-mode fiber has a much smaller core than multimode. The small core and single light-wave virtually eliminate any distortion that could result from overlapping light pulses, providing the least signal attenuation and the highest transmission speeds of any fiber cable type.
Category (Cat) 6
Category 6 cable, commonly referred to as Cat 6, is a standardized twisted pair cable for Ethernet and other network physical layers that is backward compatible with the Category 5/5e and Category 3 cable standards.
Cabinets & network accessories
Once you figure out if a rack or enclosure best suits your needs, there are still a number of options to weed through until you find the best fit. One of the first things to consider is where you are going to put your network equipment. Do you want it on the floor? On the wall? Perhaps even mounted to the ceiling?
Data Cable management
Along with cooling, cable management is one of the most pressing challenges encountered by network installers. Even a cursory internet search will turn up countless examples of cabling disasters, with network cables looking like messy spaghetti. This isn't the way it has to be.
Tackling your rack cable management during set-up and installation of server cabinets will ensure that it's easy to expand, reconfigure and perform maintenance without having to worry about unplugging the wrong thing or navigating through the tangled cables.
Why Choose PCL for your Structured Cabling
This page is related to: data cabling Portsmouth and data cabling Southampton