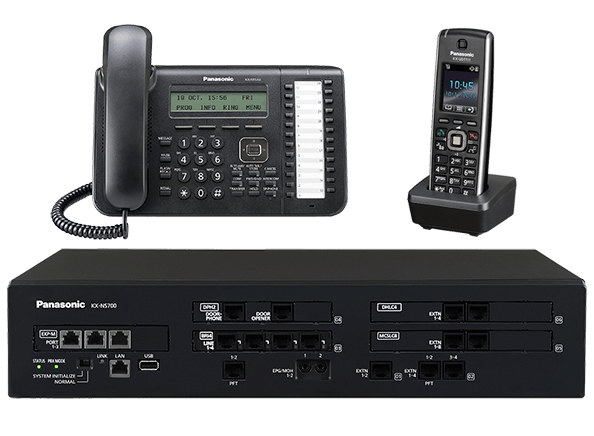 Panasonic Phone Systems
Communication Systems for Businesses of all sizes
Portsmouth Communications supply and install the entire range of Panasonic KXT, KXTDA, NCP500 & NS700 business telephone systems.
Whether your organisation requires just a few extensions or hundreds there will be a Panasonic phone system to match your requirements. There is also a great range of handsets available to suit each user's individual need(s) and the DECT solution (cordless telephones) is excellent for users who need mobility within an office or factory environment but need to remain in constant communication.
We offer Panasonic a telephone system range that includes IP Phone Systems, Hybrid Phone Systems, Digital Phone Systems and Analogue Systems which are easy to set up, and offer flexibility and manageability making them the ideal telephone system solution for your business.
What makes the Panasonic phone systems so popular?
Excellent cordless phone (DECT) solution available.
Analogue or ISDN line connectivity.
Range of digital handsets.
Voicemail and Auto-attendant.
Cost effective upgrade route.
Client Testimonials
After a major weather storm in Portsmouth literally ripped the roof off one of the buildings at BAE Systems, Portsmouth, we were urgently requested to relocated a large number of telephony services to an adjacent building on site. Once the building was repaired we then had to move the telephony services back. On completion of the project CSC, who provide facilities management services to BAE Systems, said "Hi M.L. has asked me to pass on his thanks for the stirling job you (and your teams) have been doing with the user relocations at Broadoak. The users have been up and running again with little or no inconvenience. This has been noted at a higher level and the client is please with the outcome. Thanks, D.P GOS / MSS Project Manager – BAE Systems Account. CSC"
We have always found Portsmouth Communications not only exceptionally professional, but most of all helpful; any issue that arises they will always identify the issue and provide the answer – 'there is never a problem, only a solution'. The work is not only carried out to a high standard it is also completed on time, even if that means working  'out of hours'. Due to the nature of hospitals situations can arise where works are needed to be carried out as a mater of urgency and Portsmouth Communications are always there to help at any time if needed.

The standard of work and the flexibility that Portsmouth Communications offer makes them our preferred supplier/installer at St. Richards Hospital".
Portsmouth Communications are a pleasure to do business with and their friendly and knowledgeable staff ensured that this project was completed on time and without complication. We have complete faith that should the worst happen our communication systems will be fully operational thanks to Portsmouth Communications
We were very pleased with the excellent professional service provided by Portsmouth Communications.They delivered on time, as promised within budget. We will definitely use them again and would recommend them to any company…..Portsmouth Communications provided a complete solution for us. The Avaya IP Office telephone system they have installed for us is excellent and very simple to use.
Talk to Us
Why not speak to our Telephone Systems team about the Panasonic Phone System solution.
Prefer to talk to someone? Give our expert sales team a call and they will be happy to answer any and all of your Panasonic Phone Systems related questions.
01329 235 050