Discover Genee's Interactive Classroom Solutions
Portsmouth Communications is proud to be working with Genee to provide their industry leading interactive technology
They are experts in several fields in the technology sector, providing a range of products including interactive touchscreens, visualisers, response systems and software. Their equipment is used to improve teaching, training and presentations within the education, hospitality, corporate and health industries.
Get in touch with us for a free no obligation quote at 01329 235 050 or complete the contact form.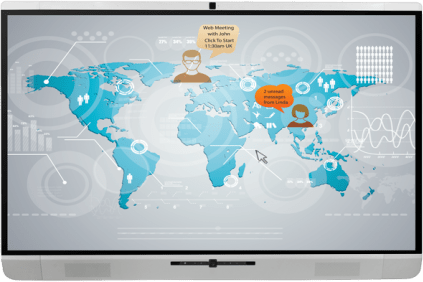 Interactive Whiteboard
Interactive whiteboards enable you to deliver interactive presentations which engage your audience. Genee Powerboard is part of Genee World's high-spec interactive whiteboard range, it shares the screen of your device and uses infrared technology to detect touch from any object. Multiple users can interact with the screen simultaneously thanks to its sophisticated multiple touch-point technology.
Using the 20 programmable quick keys, you can open your favourite applications at a single touch. A specially coated durable porcelain surface offers minimal glare and easy cleaning, whilst notes and annotations can be converted to text and saved.
Why not speak to our Audio Visual team and they will help you select the Genee product best suited to your needs.
Prefer to talk to someone? Give our expert sales team a call and they will be happy to answer any and all of your Interactive Touchscreen and Whiteboard related questions.
01329 235 050