The next generation room manager
Aside from being easy to use, other benefits of installing the Evoko Room Manager system include:
Cost effective and efficient
Simple and secure installation
No resources needed to manage the device after installation
Integrates with Microsoft Outlook* and Microsoft Exchange Servers
Room bookings can be made and amended either via Microsoft Outlook or the Evoko touch points situated outside each room
Bookings are synchronised automatically
Any issues can be reported using the touch points
System will suggest alternative meeting rooms if your chosen room is already booked
*Microsoft Outlook is a registered trademark (®) of Microsoft Corporation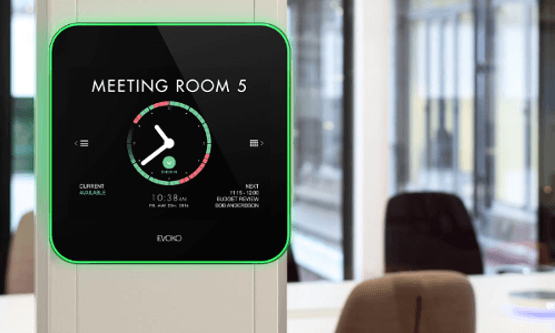 Why not speak to our Audio Visual team and they will help you select the product best suited to your needs.
Prefer to talk to someone? Give our expert sales team a call and they will be happy to answer any and all of your Evoko Meeting Room Manager related questions.
01329 235 050
Related Products for the teaching and conference room environments: