Wireless presentation and collaboration system for boardrooms and conference rooms
Wireless connection to central screen
Enhanced security features
Up to 8 users on-screen simultaneously
Share from laptop, tablet or smartphone
Moderation, blackboarding and annotation
4K DCI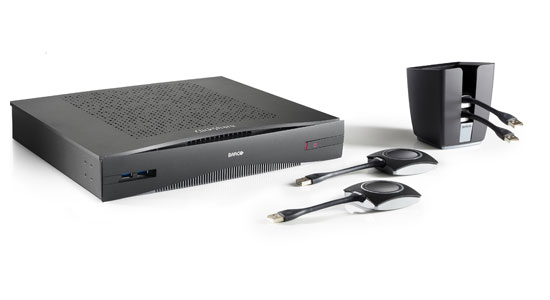 Sharing of up to 8 people
The CSE-800 was designed to bring the ClickShare experience to boardrooms, high-end meeting rooms, and conference rooms. Introducing a number of unique features, including simultaneous sharing of up to 8 people, automatic & manual moderation, and blackboarding & annotation, the CSE-800 is the most powerful system in the ClickShare family today.
The CSE-800 was designed for enterprise rollouts and offers enhanced security features, a wider range of connectivity options – including AirPlay and Google Cast support for non-HDCP content and central management.
The power of 2
The CSE-800 features two HDMI inputs and outputs. This means that there is a direct connection with legacy equipment and easy integration with conferencing systems, but also that two 4K DCI displays can be driven by a single base unit.
Furthermore, the 2 network connections allow separate and simultaneous connection to multiple networks (e.g. guest and corporate networks), and provide additional security and convenience for users. Allowing up to 8 persons to share content simultaneously, the CSE-800 ensures connectivity to the central screen and encourages collaboration.
Talk to Us
Why not speak to our Audio Visual team and they will help you select the best ClickShare option suited to your presentation needs.
Prefer to talk to someone? Give our expert sales team a call and they will be happy to answer any and all of your product related questions.
01329 235 050
Related products for the teaching and conference room environments: